BEAUTY TALK: daily make-up favorites
One of the most frequently asked questions by readers is usually about my make-up. And to be completely honest, it always surprises me, because I feel like my skin is anything but perfect (ie. super dry around the nose) and I really only stick to basics when it comes to my daily routine.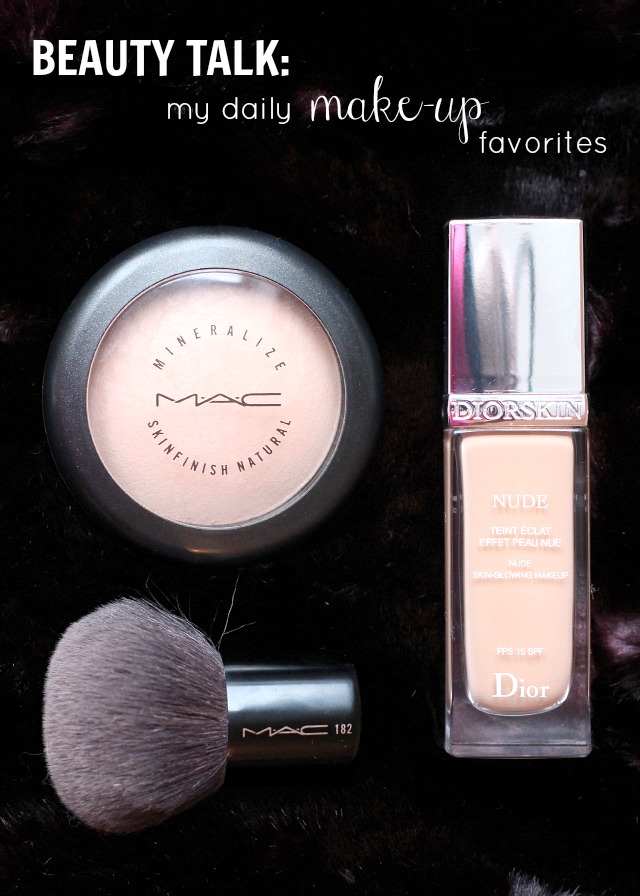 I always start my day by washing my face with nothing but water and applying a moisturizer (see my favorites HERE and HERE). Those that have read my blog for a while know that I am a big fan of BB creams because of their moisture and sheer, very natural look. But for winter I need something with a bit more coverage, so I use the "Nude" liquid foundation by Dior in #020. My favorite powder by far is MAC's mineralize skin finish in medium plus, applied with the MAC brush #182. Oh and of course I use a bit of Too Faced "snow bunny" bronzer but that hasn't changed since THIS post 🙂
Next I do a super simple eye make-up. A bit of MAC's "shroom", a pearly nude eyeshadow, applied with an eye-shadow brush from Sephora and for the eyeliner I use Maybelline's "master smoky" for a super thin line and smudge it a bit. I always have multiple mascaras on hand (mostly goodies from past events) but recently my favorite has been "Volume Million Lashes" by L'Oreal. Just before christmas I started using the Instant Brow Pencil by Benefit, which I am madly in love with! And whenever I remember I use Dior's new twin set eyeshadow #530 to highlight the arch of my brows.
And finally, I always carry all these lip products in my purse. Depending on my mood I stick to just lip balm, either Carmex / Kiehl's #1 lip balm, or add a light pink gloss / lip stick for a subtle touch of color. Obviously perfume is also part of the daily regime and Marc Jacob's "Oh, Lola!" has been my favorite since last spring!
What are your most frequent beauty products?