TRAVELS: ME Ibiza – Hotel Review
Since a lot of you had asked where we stayed in Ibiza, I wanted to share the hotel and our personal opinion about it with you guys. We stayed at the newly opened (June 2014) ME Ibiza which is part of the Melia Hotels. To be honest, I found the hotel via Instagram, since they had had some well-known bloggers (Song of Style, Lovely Pepa, …) visit during the Summer. The facilities and grounds looked gorgeous from their photos and I was sold instantly.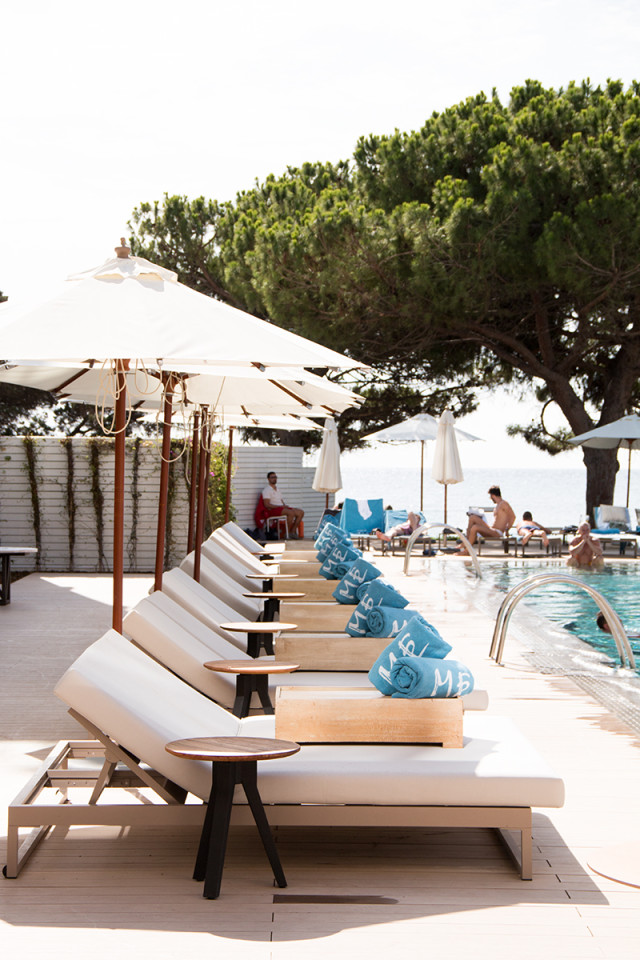 The Location:
Located close to Es Canar, the hotel is about 22km from Ibiza town, which will cost you around 40€ by taxi. That's why we decided to rent a little Fiat 500 (45€ per day) on the second day. It made us a lot more flexible and actually saved us money. Ibiza is a fairly small island, so for us it was ok to be further away from Ibiza town, especially since we spent most our days in beach clubs, which were located all over the island anyhow. If you don't plan on renting a car, it may be a bit far away from everything. Also, for Formentera you take a different ferry, which leaves from Cala Pada/San Eulalia and it takes about 20-30 minutes longer than from Evissa.
You have Nikki Beach Club literally right next door to the hotel, which is nice for lunch. Unfortunately though, it's not like Nikki Beach in St. Tropez and rather empty (at least while we were there) – which we liked for lunch but for afternoon pool parties it was a little too quiet.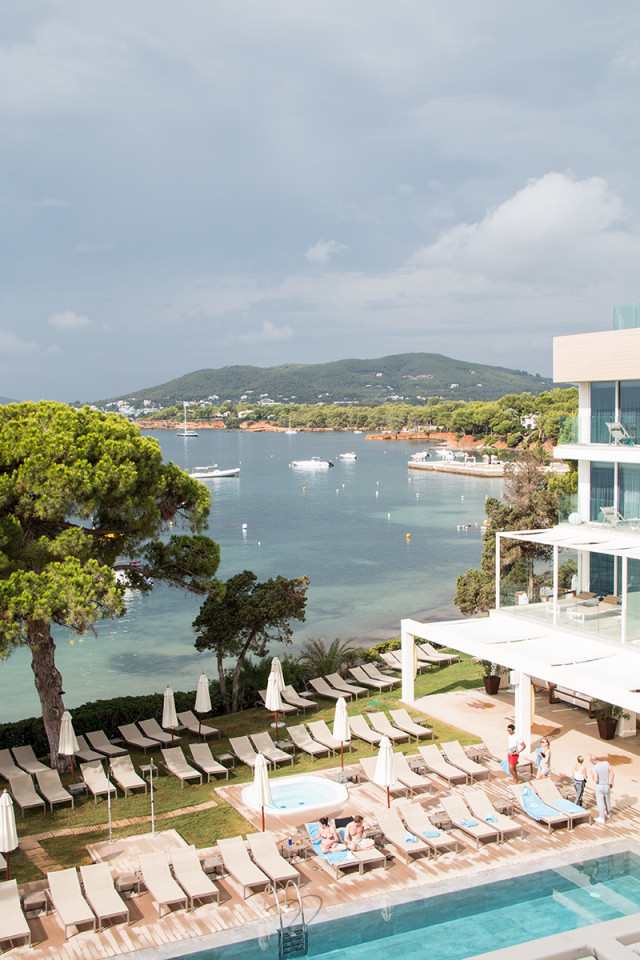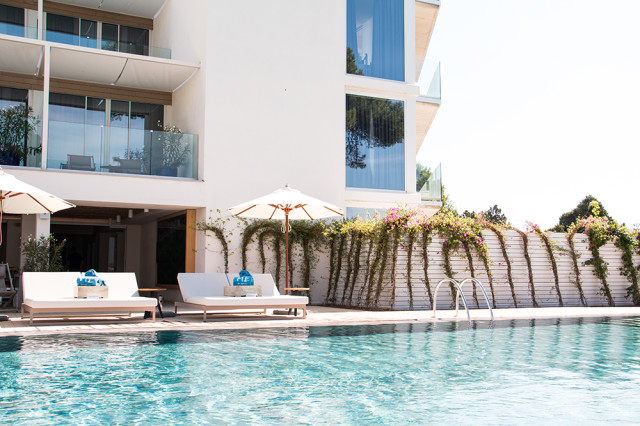 The Service:
From the moment we arrived at the hotel, we immediately noticed the super friendly but easy going mindset of all the employees there. Everyone always said "Hi", they constantly had a smile on their face and were super helpful for anything we needed. Especially Sarah at the front desk was amazing! Also, we arrived super SUPER early (aka 5:30am) since we took a flight in the middle of the night. The hotel was fully booked so they didn't have any rooms available for early check-in, but they were ok with us napping in the lobby for a bit (probably looked like the biggest bums), and as soon as the breakfast opened at 8am we were told we could eat and then change into our bathing suits at the gym. While we were laying by the pool around 10am, Sarah came over and offered us a different room to rest until ours was ready (official check-in is at 3pm), which I thought was a nice gesture!
The Rooms:
The Hotel offers a bunch of different category rooms, mostly having to do with which way they are facing and on what story they are. We had a "Mode Room" (#323) located on the 3rd floor facing the pool and ocean. It was spacious, kept all in white and an open bathroom, including a huge rainfall shower. We did have a problem with the shower draining on the first night, but that was fixed right away while we were at dinner. Our favorite part about the room? The "sexy light" which turned everything pink. Kind of fun and definitely fitting for Ibiza. The only thing I didn't like too much was the open closet space. It looked really cool but wasn't that practical, so I just kept all my stuff in my suitcase, which I usually never do.
Editor's Note: The hotel has a DJ from around 2pm until midnight, which can be heard a little in the rooms. We loved it, but if you prefer not to hear the music later at night, I'd recommend getting a room out back.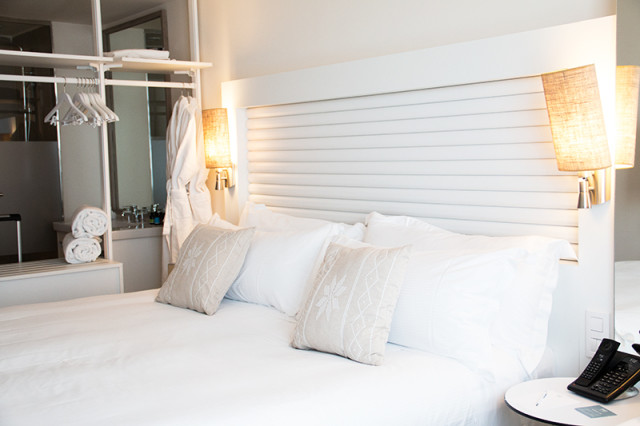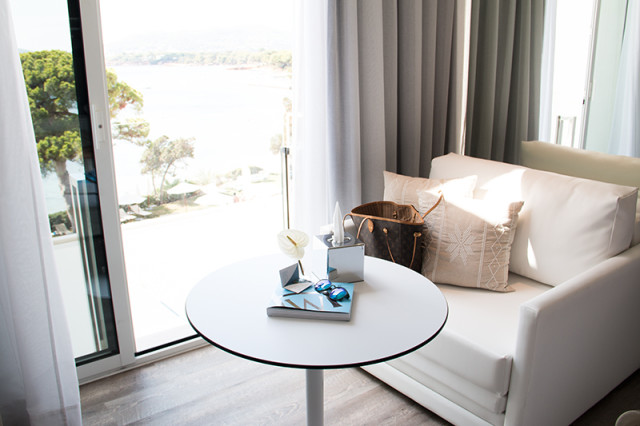 The Food:
Our room rate included daily breakfast, which I loved. All I need for breakfast is fresh fruit, good coffee and juice. They met all the requirements! There was a huge fresh fruit selection, freshly squeezed orange juice in huge jugs that you could serve yourself and coffee machines for plenty of refills. Also, they had free flow champagne (!!) breakfast, meaning all throughout the restaurant there were champagne buckets with about 10 bottles each. Obviously there were also plenty of baked goodies and a place to have eggs made freshly. Definitely nothing to complain about!
The drinks by the pool were delicious and also freshly made. For one night we ordered room service and I had the pizza, which I had wanted to try all week since I spotted a real fire pizza oven in the restaurant. It was delicious and so was everything else. On our last day, we spent the entire day up on The Rooftop, which is a bar and more private pool located on the top floor of the hotel. The food there was also really yummy (our favorite dish throughout the week was "pimientos de padron") and our sangria de cava delicious.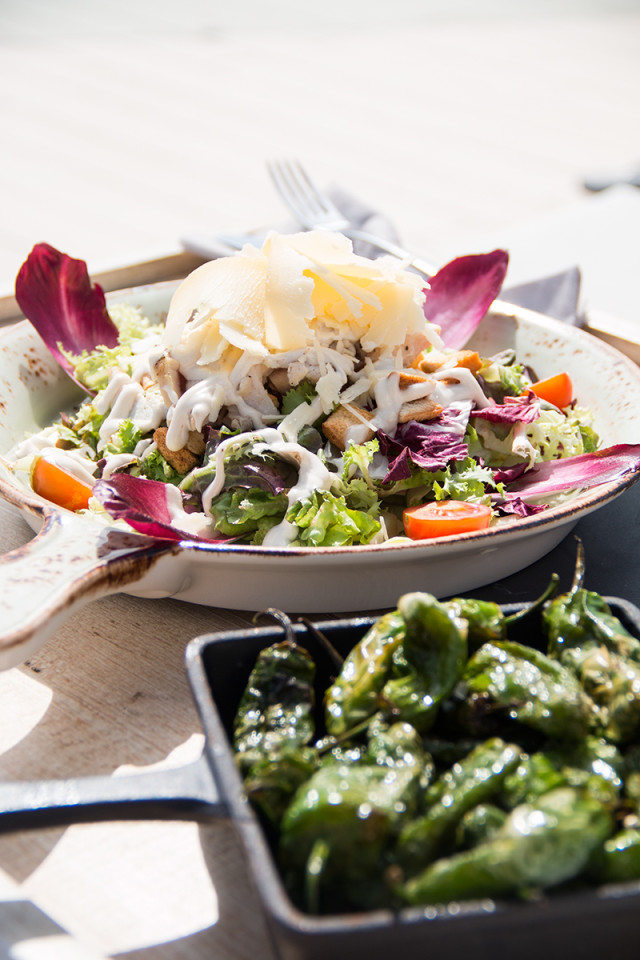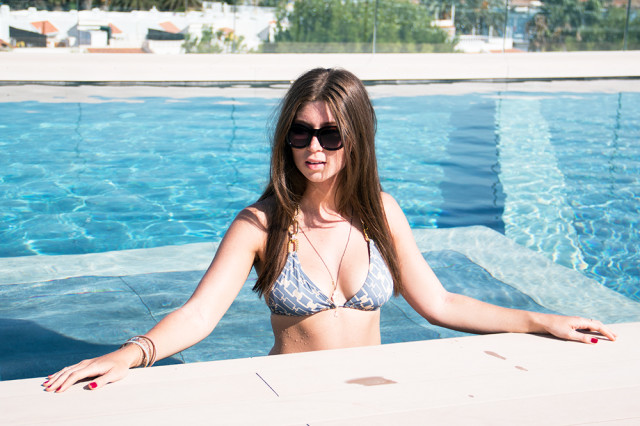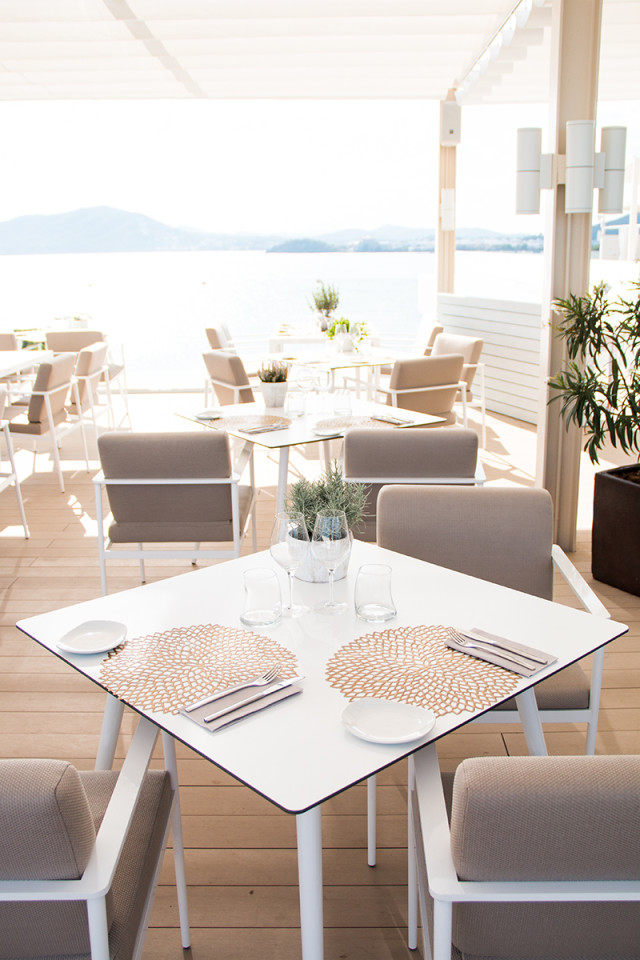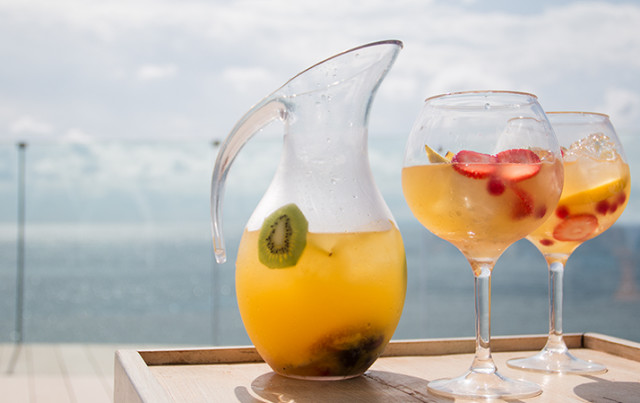 The Decor:
At this point I have to admit that one of the main reasons I wanted to book the ME Ibiza was because of the decor. And I was sold the second I stepped into the lobby. It felt beachy, cozy, modern, welcoming and cool all at the same time. Fresh flowers at every corner, candles burning at night and coffee table books and pillows stacked every where. Plus there is this special room scent they use in the entire hotel which instantly makes it feel like vacation. I really, really loved the decor of the hotel and would go back just for that!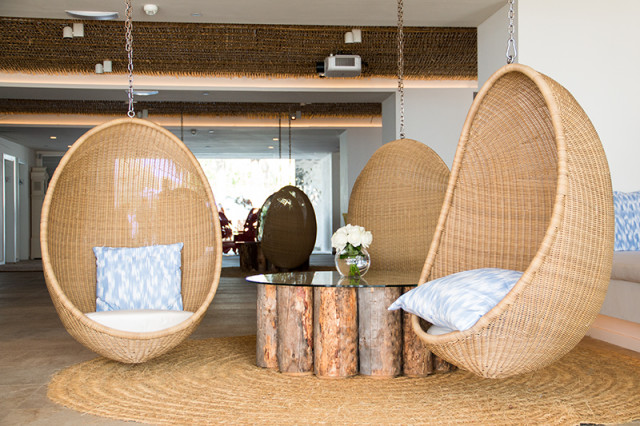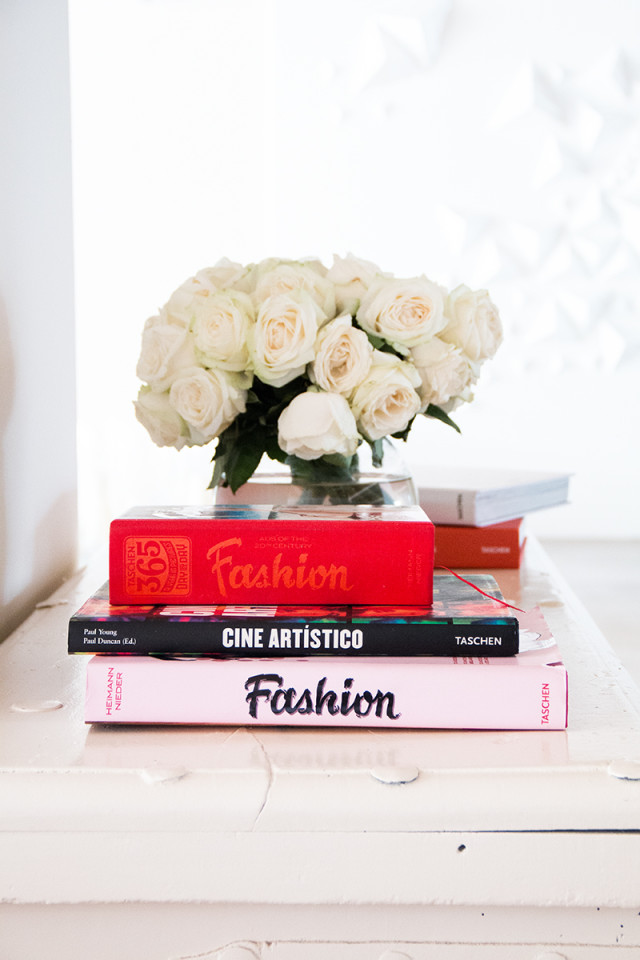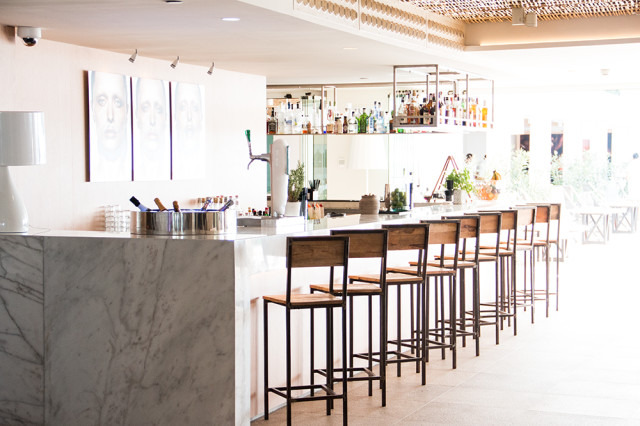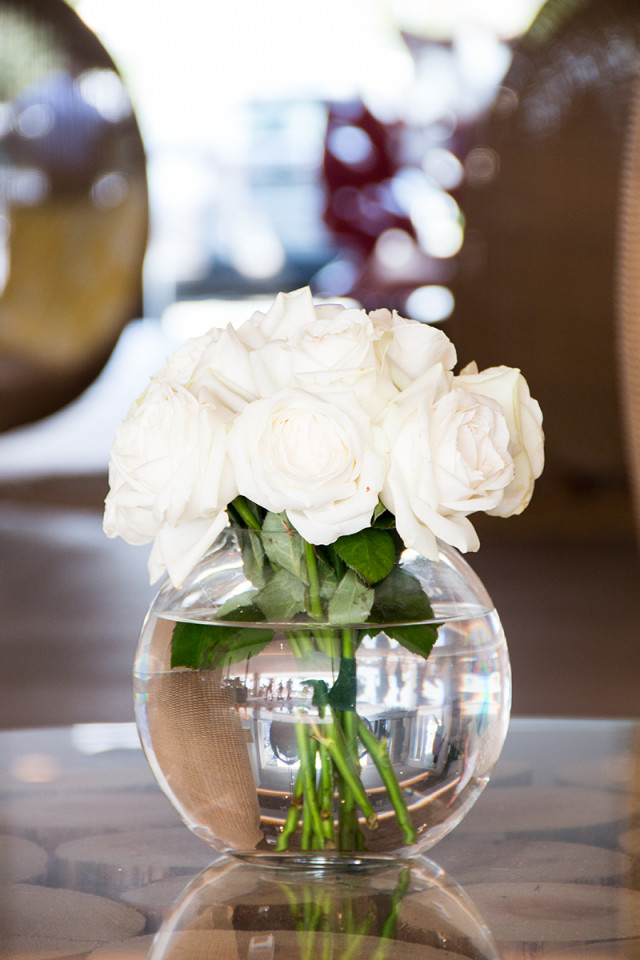 All in all I can definitely recommend the hotel, just beware of the fact that it is located fairly up north. We had an amazing 6 days and I'd go back in a heartbeat. Next year we plan on going with a bigger group, for that we're planning on doing AirBnb, but for a couple I feel like the ME Ibiza is a great place. They have good music, yummy food, a nice pool and The Rooftop, which was perfection.
If I missed anything, let me know in the comments and I'll be sure to answer all questions!