TRAVEL: the Road to Hana, Maui
When I think back to last week in Maui, it is hard to pinpoint what exactly I liked the most. Every single day was special in it's own, we were out and about most days and explored the island. However, the Road to Hana definitely at the very top of that list! Even before traveling to Maui, the famous road popped up in every single guide I read and lots of recommendations from friends also mentioned Hana.
Last Wednesday, we got up at 4am to see the sunrise at Haleakalā vulcano / national park, only to be stuck in a big, wet cloud, lots of fog and -6°C at 10.000 ft elevation. No sun in sight, as you may have already guessed. A little sad about the unsuccessful field trip, we drove back down the mountain and fueled up with lots of coffee, breakfast burritos and huevos rancheros at Café Mambo in Pa'ia. By the time we had finished breakfast, the rain was almost gone and we were greeted with a blue sky and rainbow over the ocean. Happy mood was back on!
Since we were up anyway and already half way across the island, we decided to make the best of the day and try our luck with the Road to Hana. Originally the plan was to only drive half-way to Hana to stop at Twin Falls and find banana bread in Ke'anea. Even before we really started driving, we spotted impressive waves at North Shore (also known as Jaws) and an entire rainbow over the ocean. Breath-taking!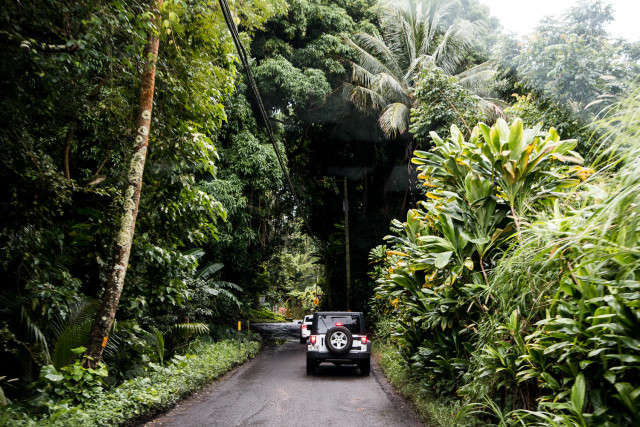 Needless to say, the drive along the Road to Hana was pure adventure. We had the best time exploring water falls, driving through the pouring rain, seeing black beaches, incredible coast views and cute little towns. You literally have to take the drive if you ever visit Maui! Also, if you happen to be driving in a Jeep or 4-by-4, definitely keep on driving once you get to Hana. The road narrows, it is mostly mud and gravel but the landscape is worth it! We found hidden coves and had so much fun. It felt like Jurassic Park in real life.