CRAVINGS: swim discoveries.
As I am currently lounging by the pool in Mallorca and still have our trip to Miami to look forward to in September, I've spent an awful lot of time researching (and shoppping) bikinis to round up my personal top 5 swimwear brands and discoveries. However, I like to think of it as business related research since the blog is called "Bikinis & Passports" after all. While browsing online and stalking Instagram accounts, I found myself going back to similar styles and colors again and again. So what is currently trending in my world when it comes to swimwear?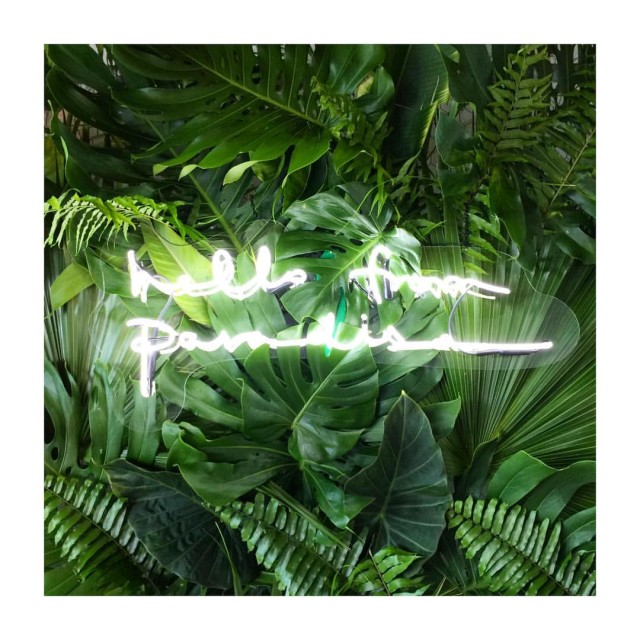 Bikini Trend Talk
There are various elements that spoke to me personally, but I think the overall trend I am currently loving is minimalism. Delicate and simple shapes (think thin straps and classic triangles) in combination with a monochrome colors like a deep berry red or luxurious mint green. Of course, black is always a great choice and timeless investment, just like an off-white or charcoal gray!
And because sharing is caring, I put together a list with my top 5 swim cravings and must-haves for you today. Some are new kids on the block, some have made their way around the world through social media and others are true classics that I feel everyone should own.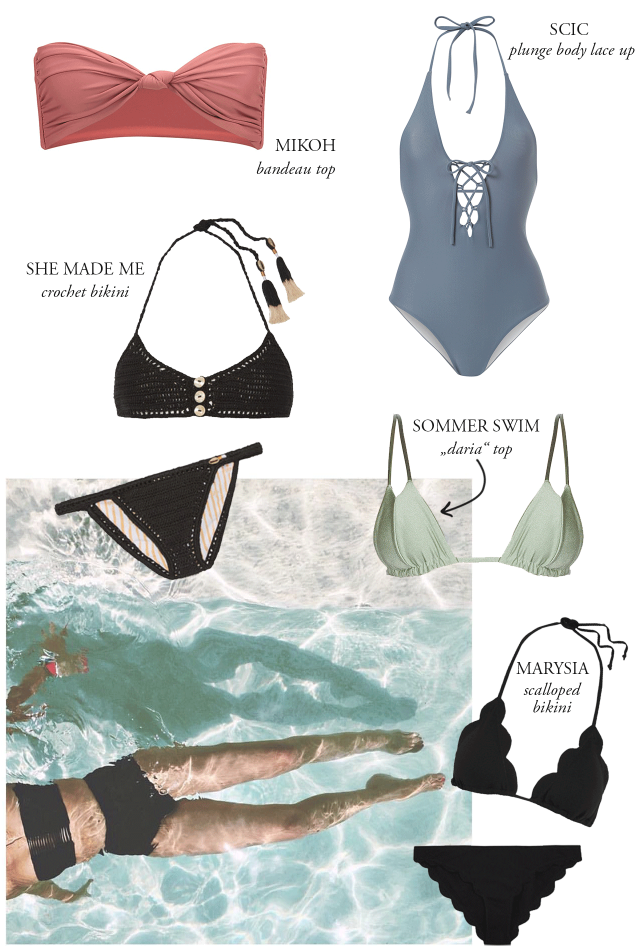 MIKOH: A brand that originates in San Clemente in Orange County is one that I more or less have to love. I grew up in the coastal cities next to San Clemente (Dana Point & Laguna Beach), which makes me feel weirdly close to the brand. MIKOH has actually been on my radar for years but I have yet to make my first investment. Aside from their monochrome pieces, I also love the delicate palm prints they work with occasionally.

SCIC Swimwear: Another brand that I have a personal connection with is SCIC. Founded by fellow blogger lady Sofia of She Comes In Colors, I can't help but love her pieces. Since launching her swim line, she's spent quite a bit of time in Miami, which also happens to be a fun inspiration for our upcoming vacation 4 weeks from today – totally counting the days! The plunge body lace up suit in the muted gray is my favorite item, but how cute is her signature floral print as well?
She Made Me: Crochet swimwear at its best! This label enchant you with their boho vibes. I love the cuts and little details like the shells. For a laid-back beachy outfit I could also imagine wearing one of their tops with a high-waited pant to lunch.

S O M M Ξ R . S W I M: Considering the fact that their Instagram account has close to 100k followers, I am definitely not the first to discover this brand. For some reason, however, I had never heard of them until earlier this week and it was love at first sight. For our trip to Miami I ordered the ELLE top and RAYDER bottoms in the color "bolero". Now if I could just order a body like that to go with it …
Marysia: Last but not least, this is a brand that I am sure most of you know or have seen. Their black scalloped edge bikini has been my go-to piece for anything water related (last worn here) and was such a great investment last year! I'd love to add a light pink to my collection but still have some saving to do until then!