HEALTHY LIVING: TRX, baby!
I know a lot of you are interested in my diet and fitness. I receive emails asking about staying healthy on an almost daily basis. I've talked about my personal point of view HERE, and not much has changed since. It is a blessing, that I actually have a great liking for healthy food. The things I find myself craving usually involve lots of veggies and fruit. Also, I really don't have a sweet tooth at all. I hardly ever find myself wanting candy or chocolate (other than an occasional spoon full of nutella or peanut butter) and I can easily skip dessert. Personally, I feel that diets are not the way to go. It is all about changing your mindset and making a healthy diet and regular exercise part of your life – to a point where you actually enjoy it. I am realistic about my lifestyle and know that 3 workouts per week are just about all I can squeeze into my schedule right now. That's ok for me. While I usually hit the gym or go for a run, I also love trying new things. And this is where TRX training (also known as "suspension training") comes into play.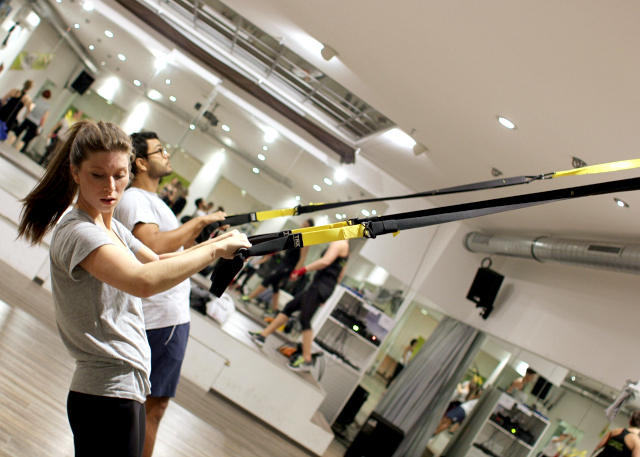 Have you guys heard of TRX? I didn't until a little while ago when Victoria told me about it. Of course I had to give it a try, so Victoria, her husband Tassilo, Anna and I took a class at In Good Shape. Holy cow!!! NEVER have I been so sore! TRX is a new sensation from the US, that is just now becoming popular in Europe.
"The field of suspension training is a form of resistance training that includes bodyweight exercises in which a variety of multi-planar, compound exercise movements can be performed. These are done with the aim of developing strength, balance, flexibility, and joint stability simultaneously."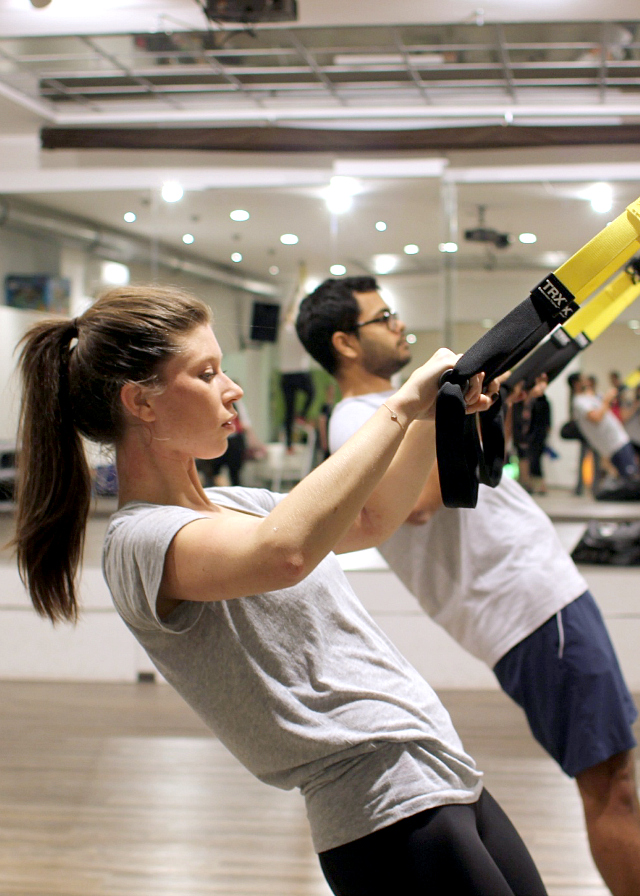 For us, we did each exercise for 1 min 30 sec and then rested for 40 sec. I think the main thing is that due to the instability of the suspension you actually work a ton of smaller muscles that usually don't get worked with regular weight training. For me personally, I noticed most of my soreness in the upper arms and between the should blades, which are definitely 2 regions I still need to work on. So if you guys are looking to try something new, definitely try the TRX training trough In Good Shape. For the first class they offer a 10€ deal, which is what I booked. And guess what, I am just about to change to go to my second TRX training with a colleague – just this time we're trying the high intensity version, for which you add cardio inbetween the exercises. Wish me luck!!
EDIT: I just got back from the HIT TRX class, and it was literally THE hardest thing I have ever done. I would consider myself in fairly good shape, especially because I also train with weights a lot. Well, nothing could prepare me for what I experienced tonight. It was actually 2 minutes of exercise, followed by 1 minute of intense cardio (ie. 20 burpees or a minute of knee-highs). Basically your pulse is up for an hour straight and at one point I felt like I was going to throw-up and pass out all at the same time. I am still a little shaky right now, but I feel like I REALLY worked out tonight! I took the class with a colleague of mine, who is in great shape (he ran a marathon in October), and even he had to push his limits and was drenched in sweat! If you're up for a challenge, this is definitely the right class for you!! I will probably be sore for weeks to come, but once I recover I'll definitely do it again.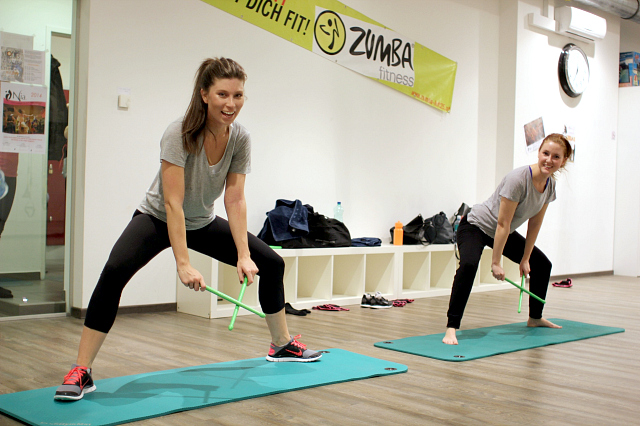 PS. We also tried about 10-minutes of their brand new "pound" class – which is amazing, but sooo exhausting! Victoria did it again yesterday, but I still have to prepare mentally to go for a second class 🙂 You will be dripping in sweat, guaranteed!