Fall Fashion Fix
In the middle of that strangely comforting, yet utterly difficult to pinpoint season somewhere between warm Summer days and a cold Winter approaching (no sign yet, even on the last day of October), I find it more and more difficult to dress in the mornings. Summer dresses are no longer weather-appropriate, while a warm jacket will leave you drenched in sweat in no time. Time to re-think your wardrobe. Time to rely on go-to basics. Time for a Fall fashion fix.
Recently, I have found a few items to work better than others. Amongst them are simple sweatshirts, rather than thick knits. And flats instead of sandals and boots. I have been embracing the fact that it has cooled down to a climate that allows me to wear my favorite denim again and have recently made the best purchase of the season on Ebay fashion: a timeless trench coat.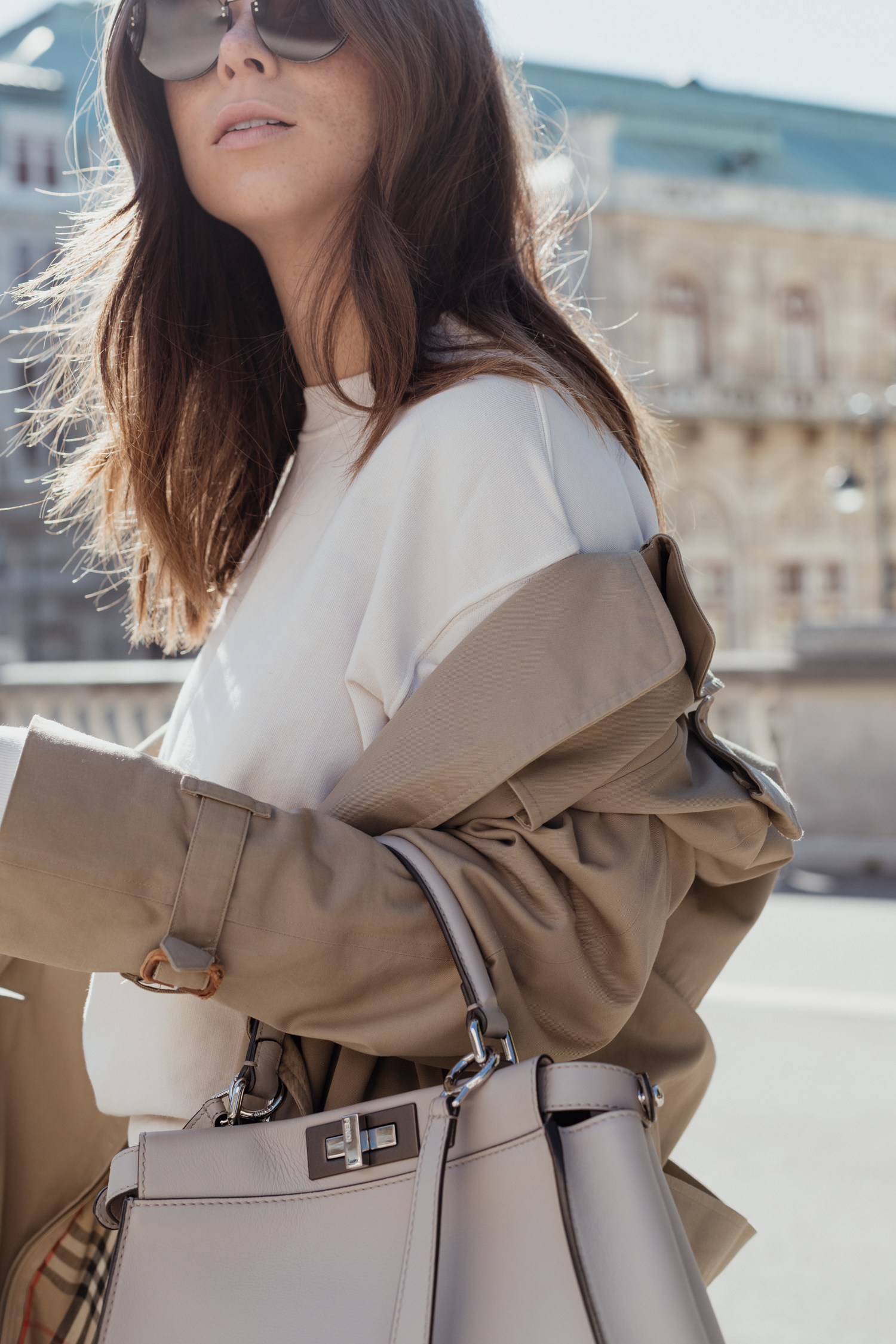 An exclusive platform for first-class brands. They offer visionary trendsetters an opportunity to showcase their style at an unbeatable price.
Find the much sought-after it-pieces, designers & limited editions.
All with the eBay brand promise like eBay PLUS, eBay Authenticity Check forluxury items and of course, the eBay low price guarantee.
Over the years, I have come to realize that there are certain pieces you can always rely on – no matter how many seasons pass. Amongst them, the trusted trench! It is one of those pieces that never goes out of fashion and styles from the 80s looks just as amazing in 2018 as they did back then. That's why you can only imagine my excitement when I scored this beauty – perfect fit, great condition – secondhand at a fraction of the original price.
No matter if you are also looking for a season-appropriate trench coat or have a pair of boots, a designer bag or simple sweatshirt on the list this Fall, don't forget to stop by Ebay Fashion on your next digital shopping spree. This outfit (and my new old trench) is living proof of the deals that are just waiting to be scored!

Your Ultimate Fall Fashion Fix:
Mid-Blue Denim: The perfect all-rounder jeans which best work for a casual every-day look but can also be dressed up with heels and the right accessories!
A Basic Sweatshirt: I have been living in basic sweatshirts lately. Not quite as thick and warm as those cozy Winter knits, but a bit more than just a shirt.
The Timeless Trench Coat: My ultimate Fall Fashion Fix is definitely the vintage designer trench coat that I scored on eBay fashion. Timeless and affordable since I purchased it second hand.
Fancy Flats: When you work with basics like denim and sweatshirts, a pair of fancy flats is a great way to elevate your look. Just add sparkles, color or textures.
A Powder-Gray Bag: During Winter I am all about black bags, in Summer I prefer light colors, heck even a daring white. But for Fall, nothing screams elegance quite like a powder gray bag on your arm.
Did you know: 80% of eBay sales are brand new items, 88% of items sold are "buy now" with no bidding necessary and the platform offers more than 1 billion items at any given time. Casual, right?

*this post was sponsored/paid for by Ebay Fashion