CRAVINGS: travel essentials
As you guys know, I am in full on vacation-mode right now, so naturally this week's Sunday Cravings (even though they are on a Monday…) are all about travelling. The reason this blog is named Bikinis & PASSPORTS, is because I think being able to travel is one of the biggest blessings in life. I love to pack my bags and discover a new distination, culture or country! Here are a few travel essentials I either have in my carry-on or would love to have with me for the next trip …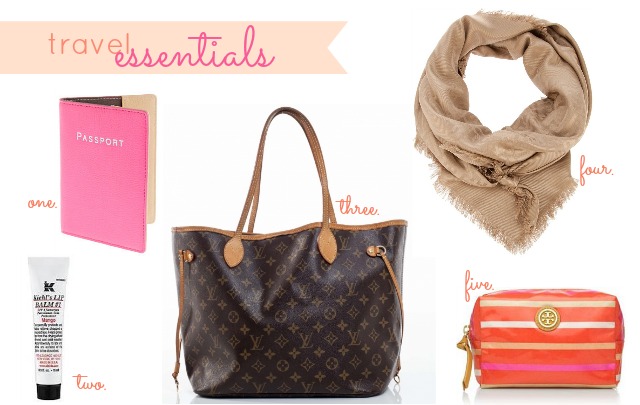 1. I received the pink passports cover for my birthday and simply adore it!
2. Kiehl's #1 lip balm as been my favorite for years and is perfect against dry airplane air – right now I am loving the mango flavor!
3. obviously my new Neverfull bag is the bag of choice right now
4. a big scarf is perfection for keeping cozy on long flights, I have the same one in a different color
5. Tory Burch makes THE cutest cosmetic cases!! I just purchased one on Saturday 🙂
Other than that I always have music on my phone, a few good magazines and a bottle of water in my carry-on. What are your essentials when travelling?