CRAVINGS: monochrome
As much as I love my patterns (seen HERE), there is also something special and comforting about monochrome items. I love a piece that is bold in color but simple in terms of the cut or pattern – usually because those items are the most versatile and work with a lot of other items in my closet! I was recently introduced to the brand Laurèl, which may not be my typical destination for shopping, but their monochrome pieces are definitely craving-worthy for the summer and absolutely timeless. The do lots of patterned items, but they also do the simple monochrome pieces, which I love. For example the green silk blouse would easily work with a pair of destroyed denim for a day at the beach, but also with black skinny jeans, a statement necklace and heels for the next date night. For the warmer season I always love to venture away from the typical black/gray/white scale and add a bit of color to my closet. Which of these pieces is your favorite?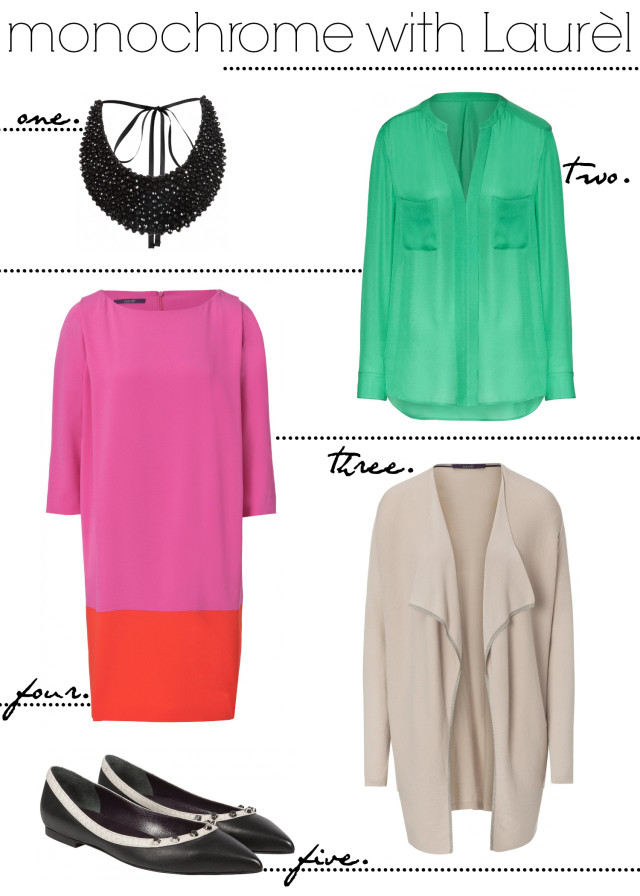 1. My statement necklace collection is definitely not too shabby, but most necklaces are colorful. This black beauty would be a great addition.
2. I can imagine this green silk blouse perfectly against the backdrop of a pretty ocean on vacation. I love the bold color (even though I am also obsessed with this python print blouse – so much for monochrome…) and cut.
3. This cardigan is super timeless and would probably be one of those pieces you'll have forever. I own a similar one in black, but sometimes I feel like it doesn't work on summery days – a lighter version would be more than welcome.
4. Wedding season is in full force and last year I also wore a bright pink dress to a wedding. I love the combination of pink and red in this one.
5. Pointy flats are definitely the new ballerina flats this year. My other pair of spiked black flats is literally SO uncomfortable, and these look like they would be the perfect alternative.
*in collaboration with Laurèl.