VIVAMAYR Maria Wörth: Detox Diary Part II.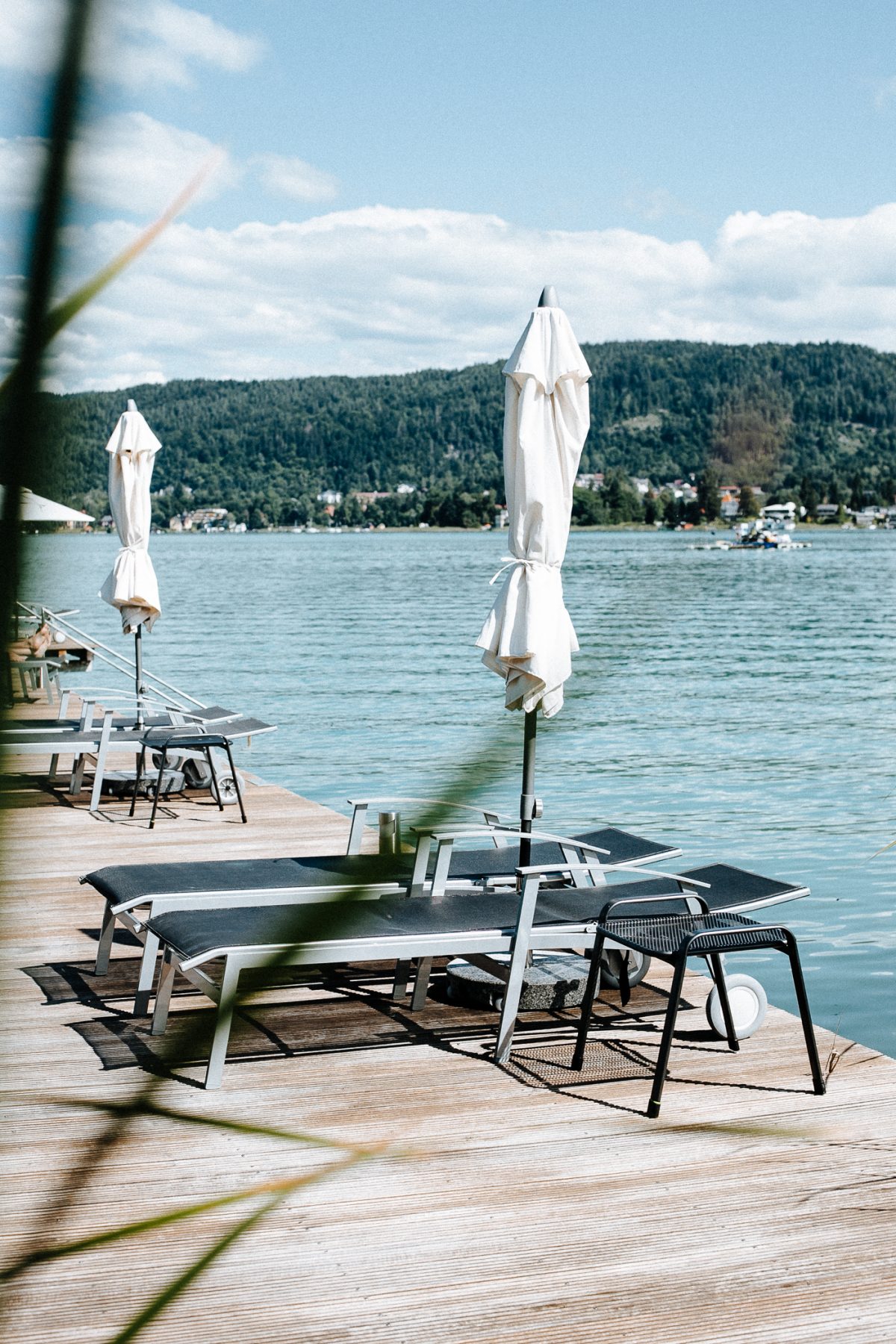 Saturday, July 15th
Same spiel as every day: the alarm rings at 7:15am and almost intuitively we make our magnesium citrate drink, pull some oil and get dressed – this time in workout clothes since I have a personal trainer lesson after breakfast.
I sit down for breakfast at 8:30am, Mike follows shortly after. Today I get 1.5 potatoes + some smoked salmon and a wedge of lemon. Honestly, I have gotten used to the potatoes and love my breakfast.
The workout is at 9:15am and I get to have my first power plate session ever. Love it! And am surprised how intense it makes the simplest moves. After 30 minutes I am sweaty, but feel great!
Since it is the weekend, the schedule is less packed and I only have the 30-minute body detox electrolyte foot bath and the medical manual abdominal treatment on the agenda until lunch time.
We sit down to eat shortly before 1pm and for the first time since our arrival I feel hungry. Probably due to the workout. On the lunch menu for me today is pasta made of black beans with zoodles and pesto. Really delicious (as everything here), but I don't really feel full afterwards. However, I don't ask for more since I feel like they probably know what they are doing here and I will be fine.
After lunch we nap down by the lake and Mike drives into town to pick up some Elton John tickets that we bought off a guy who can't make the concert. After 3 days in the clinic, the thought of spending the Saturday evening at a concert has us excited like little kids. Until we realize we only brought lounge wear, PJs and workout clothes. The perfect excuse to go shopping, right?
Around 3pm we drive to Klagenfurt (which is a really pretty town, btw) and I end up shopping the ZARA sale while Mike stocks up at P&C.
Back at the clinic at 5pm, we head straight for the lake to catch the last bit of sun. Unfortunately the wind has picked up quite a bit and it has cooled down. Wrapped in towels we soak up some vitamin D before getting ready at 6pm.
When we walk into the restaurant dressed properly, hair styled and with make-up on (just me, not Mike), the others look at us like we have probably gone mad. It is funny how all of a sudden normal clothes seem so out of place.
As always, we take our time for dinner (approx.. 30 minutes) and then head back towards Klagenfurt for the concert.
Elton John comes on at 8pm on the spot and plays for over 2 hours without a break. The concert is amazing and while we only sip on water we both start to notice how much our sense of smell has improved. The smell of alcohol in the air is intense (and not in a good way), but the music is incredible. If you ever have the chance to see Elton John live – do it! Even if you are on a detox.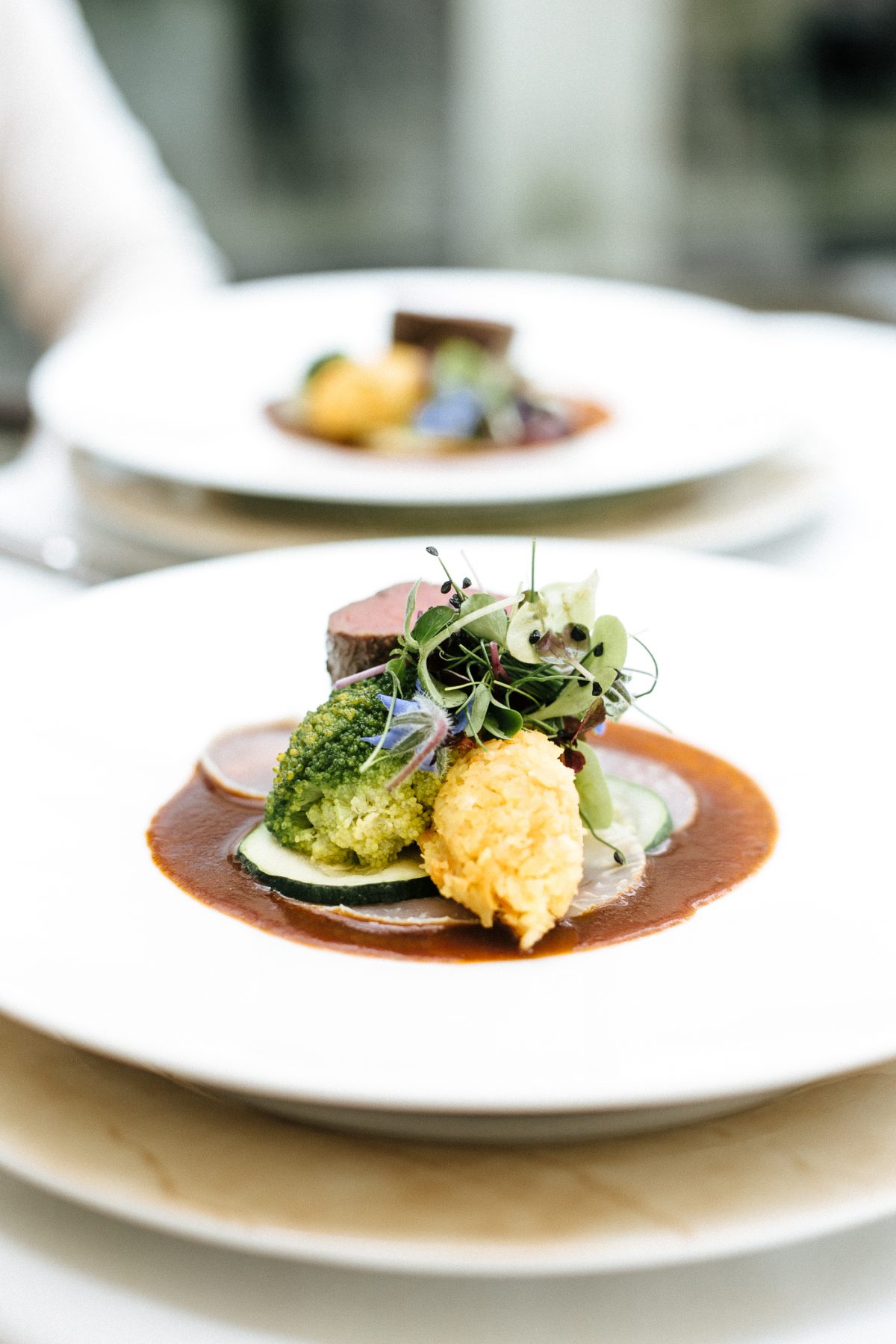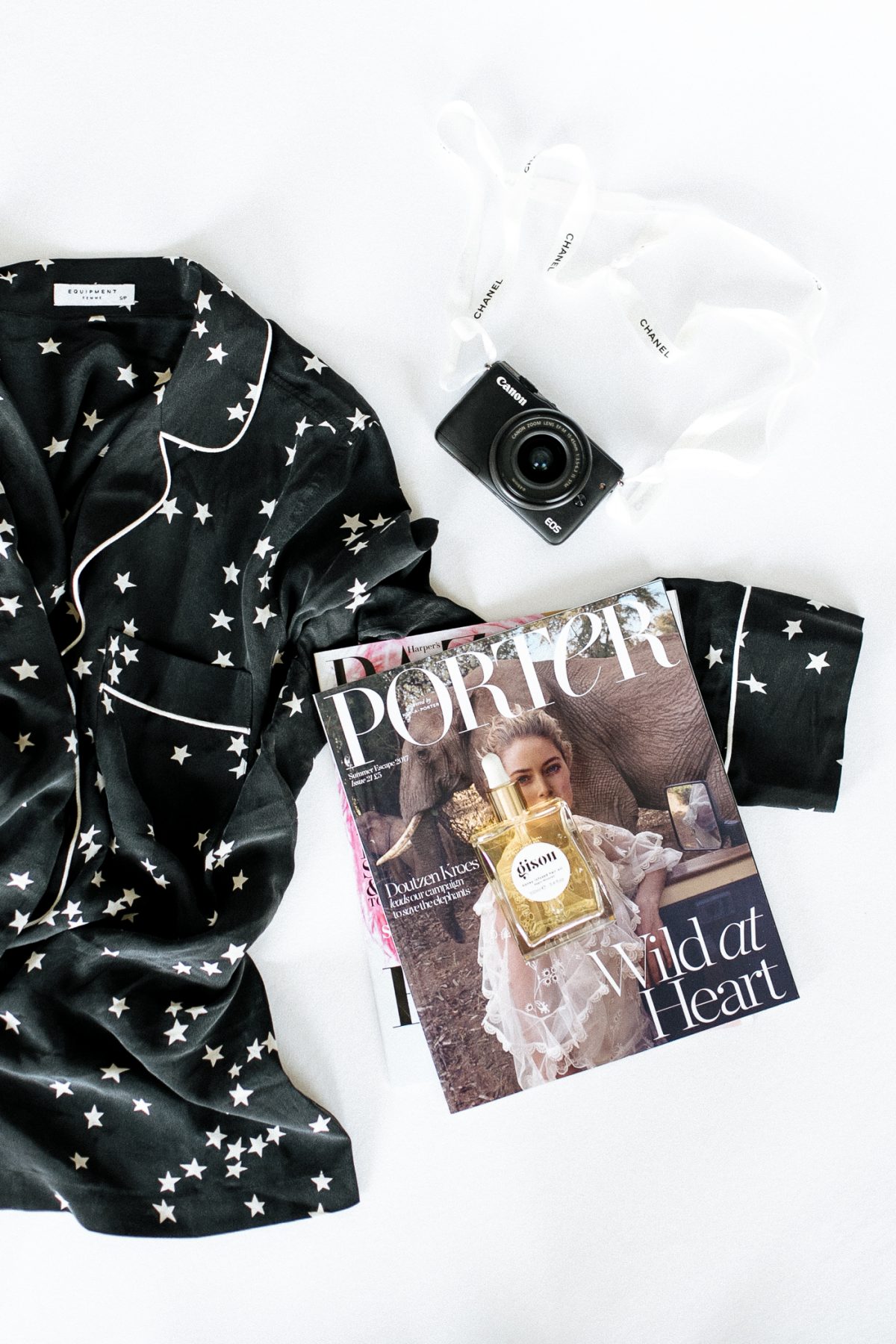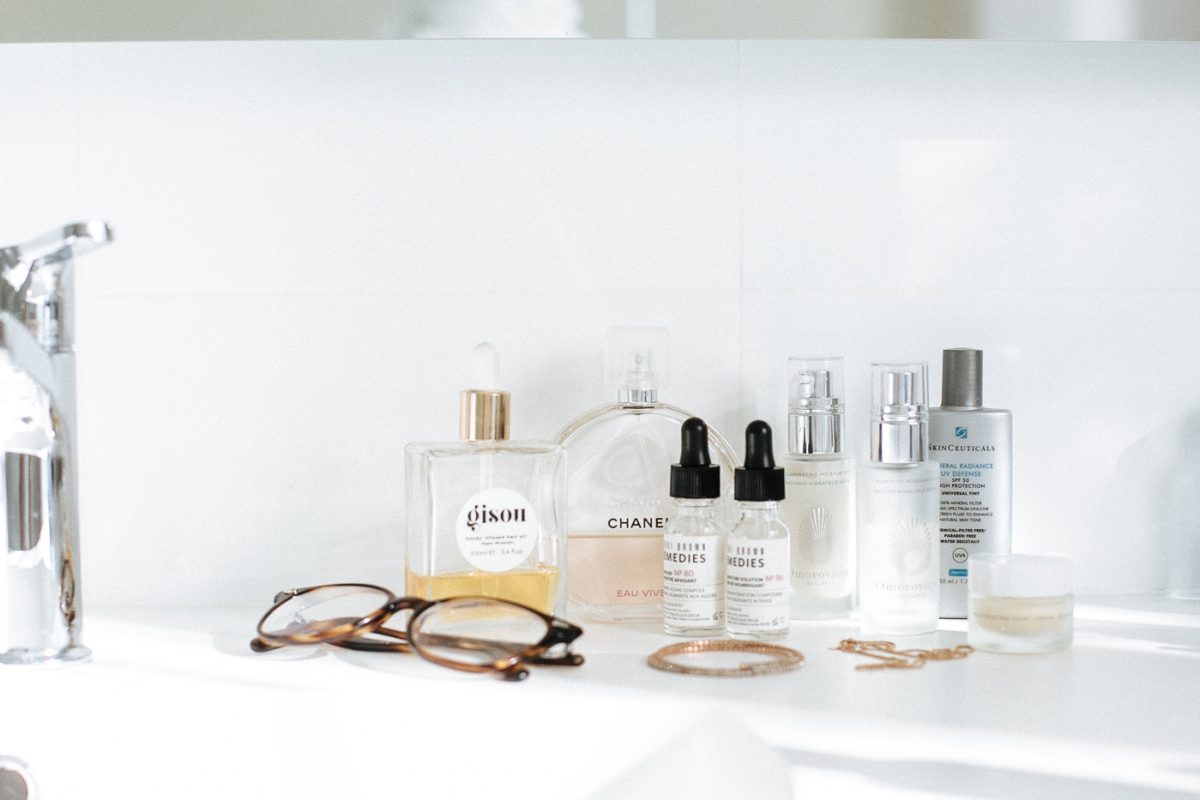 Sunday, July 16th:
Generally speaking, Sundays at VIVAMAYR are super easy going and calm. The doctors are off for the day and aside from massages, there are no treatments that take place. Which is why we decide to sleep in until 8. Mike has nothing on the agenda, I have a 25-minute massage at 11:30am. There are no news on the breakfast front – still potatoes but since I plan on going on a 2hr hike in the afternoon they treat me to 2 sides instead of 1. I have half an avocado + some lean turkey ham and leave one of the 2 potatoes for the birds.
We spend the morning by the lake before I head in for my massage.
At 1pm we have lunch, which is crazy delicious. Beef filet. A real Sunday feast and a meal like you would only find at really good restaurants. Happy bellies!
After a good hour of digestion I meet my new friend Gabrielle (we met at the detox foot bath the first day and quickly realized we should be friends) in the lobby and we take off on a hike up to the Pyramidenkogel. The sign says it'll take us 2 hours but we are at the top after 1 hr 20 min. We chat the entire time and both don't feel tired. The exact opposite, actually. After 2.5 hours of fresh air and 10km later I feel great! We are back at the hotel shortly after 5pm with just enough time to shower and get ready for dinner.
Mike and I decide to end the day with a typical Sunday evening date: a movie. We drive to Villach to see "Die Migrantigen" and instead of popcorn we both order a bottle of still water. Not quite the usual movie experience but a fun and easy-going way to end the day.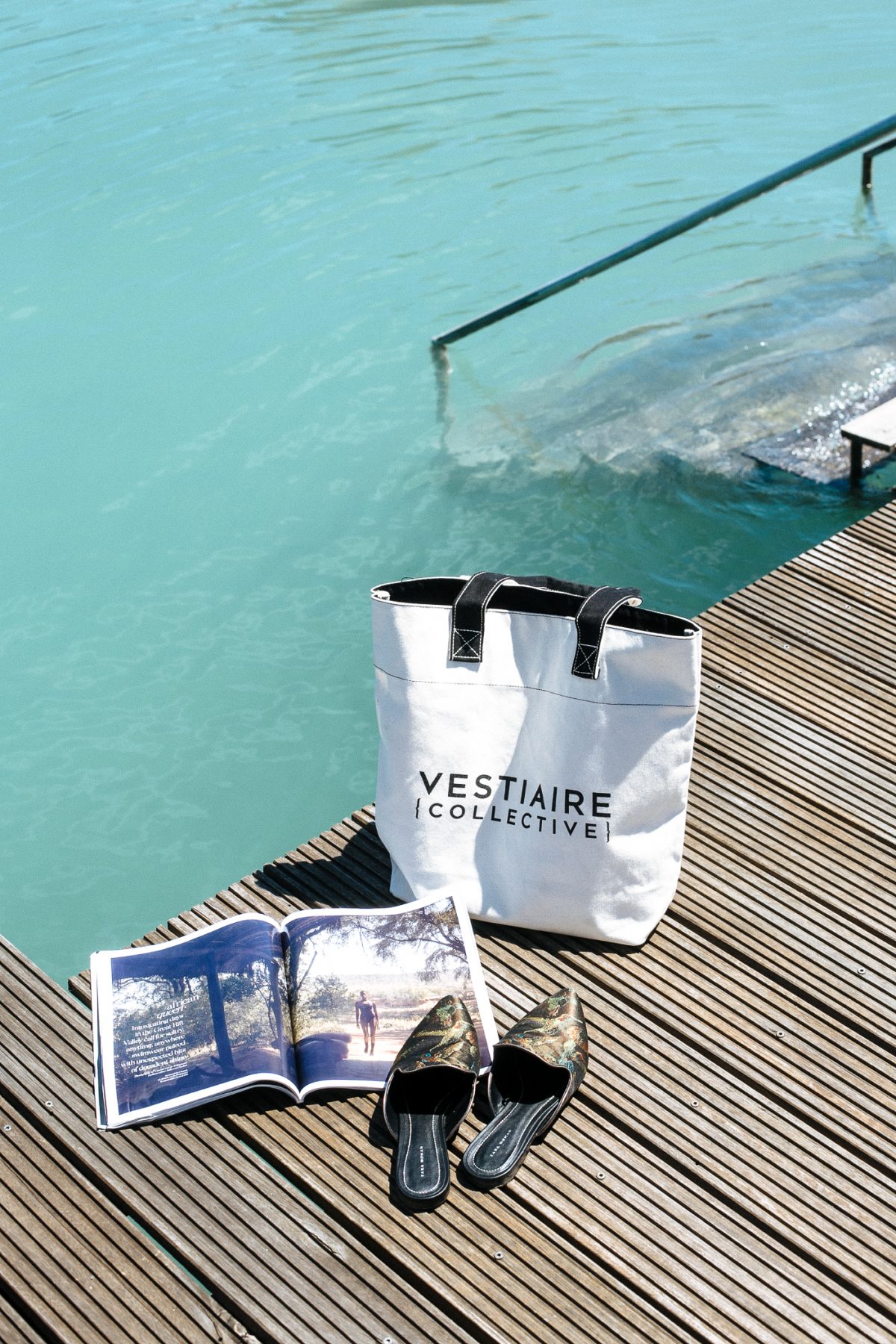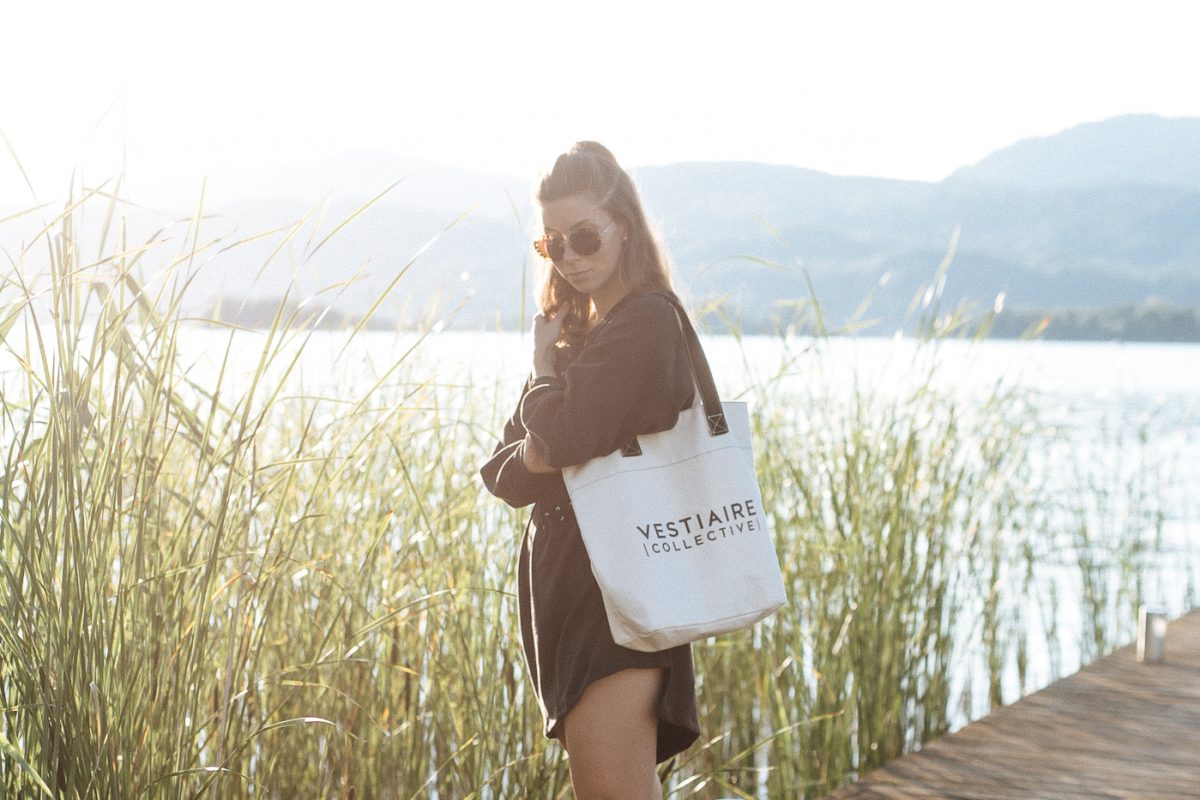 Monday, July 17th
Back to that 7am alarm clock: Mike has his first treatment scheduled at 8 and we have breakfast together at 8:30am. Today I can't do the potatoes anymore. I am scared I'll ruin them forever by eating too much, so they kindly give me a piece of soy bread instead. Despite the way it looks (remember the "pile of poo" emoji?), it tastes fine and is a welcome change. I go for some smoked local char as a side.
At 9am I have another 25-minute massage, this time a quick lymph drainage. At 9:30 I get to chat with the managing director of VIVAMAYR about the property and what their main mission is. Aside from the fact that they really focus most of their attention on the extremely well trained doctors and the medical aspect of it all, he also let's me in on the secret that a lot of young couples stop by in order to work on their natural fertility. While Mike and I are not working on little Mikes and Vickys yet, I totally get what he means with all the circumstances of modern life that can take a toll on our bodies in ways we have no idea.
After the talk I have another "Qtip up my nose" session. I have to be honest with you guys, it feels extremely strange but does clear up the nose incredibly. However, I feel like it is only a short term effect. Not sure if that is a necessary treatment.
Last thing on the agenda for today is the medical manual abdominal treatment at which Dr. Fink is pretty impressed with how much better my stomach already feels. Secretly, I am hoping that she will tell me I can stop with the potato diet, but she doesn't. Oh well, lunch is up next, which has become our favorite meal here at VIVAMAYR and it doesn't involve any potatoes either.
During the afternoon we swim in the lake, soak up the sun and read a lot. It is funny how far away my inbox and phone feel all of a sudden. I feel like I can watch my own batteries recharge more and more by the hour.
For dinner I put on my best smile and kindly ask the waitress for the soy bread instead of the potatoes again. She agrees without hesitation. Even though soy is allowed for my diet, tomorrow I am back on the potatoes, I promise myself.
After dinner we try out the infrared cabin, which is supposed to be great for tense muscles and helps sweat out some of the toxins.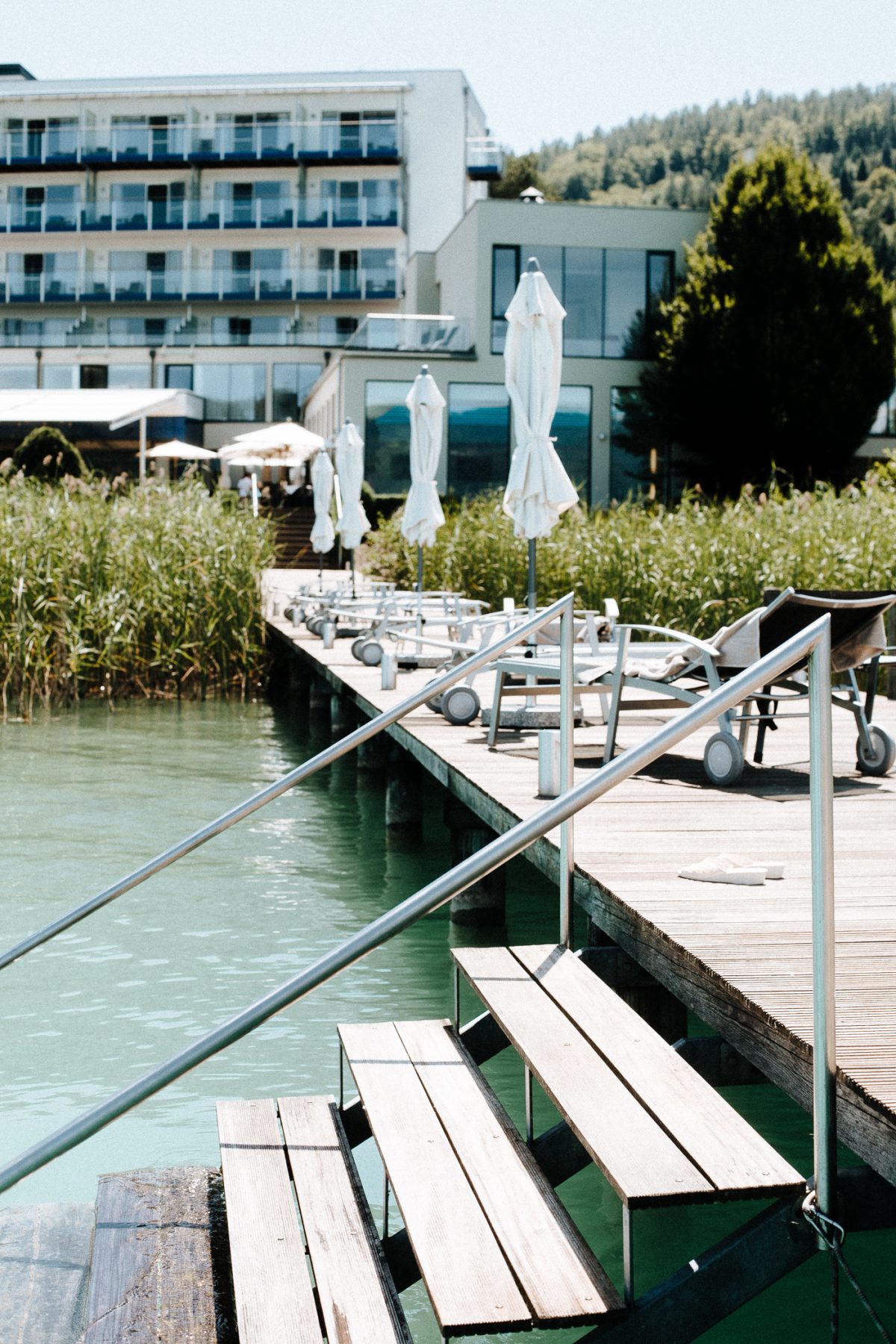 Tuesday, July 18th
Today is the last day of our stay at VIVAMAYR Maria Wörth. Mike has a massage at 8am and I start with the body detox electrolyte foot bath at 8:15am. We have breakfast together at 9am and I proudly go for the potatoes again, convinced this whole potato thing will be over after this…or so I thought.
At 9:30am I have my final consultation with Dr. Fink. By now we have bonded over her daughters college options, my job and blood results. I like her a lot and head in there feeling like she'll have some great news for me. Power of good thoughts and all, right?
While she is extremely happy with my progress, she goes on to tell me that we still have a bit of a road ahead of us. Meaning? 4 more weeks of super strict dieting (excluding all and every type of sugar, gluten, lactose,…) to help my gut heal completely. I know it is not the end of the world, but I do start to feel a bit of anxiety. This type of a diet is ok in an environment like VIVAMAYR, but how am I supposed to manage back home? Or at the office? Not to mention that my best friend is getting married in less than 3 weeks.
I love food, always have and always will. I think I just need to wrap my head around the fact that the next 4 weeks will be like medicine for my body and August 13th will come around eventually.
What else? I lost almost 3kg in 5 days, which is a bit too much in such a short time according to Dr. Fink considering my BMI, so she asks me to increase my portions a tiny bit. In a couple of days I can also start adding gluten free grains to my diet to help up the calorie-intake a bit.
My blood levels are all great and she compliments me on my vitamin D and antioxidants levels which are above average. Aside from my gut needing a bit more time to heal, my body is extremely healthy and I seem to take great care of it. So at least that's good news and the rest is only temporary anyway.
We pack up our stuff, check out and take advantage of the amazing jetty of the property for a last dip in the lake and another hour or so in the sun. Before heading back to Vienna, we have lunch at Lakeside, where it all started a week ago. I ask for a filet of char and just some grilled vegetables to go with it. Unfortunately the come drenched in soy sauce and with tomatoes (histamine), so I have to swap it out for potatoes (again). I have a feeling potatoes and I will take our relationship to a whole new level these next few weeks…
Want more detox talk? Find out how I quit drinking coffee + why.