CRAVINGS: rainy days
It's been raining all day, and guess what – I am not even really upset about it. Something about rainy Sundays is simply magical to me. I don't know if it is because I love an excuse to stay on the sofa all day, or if it is the sound of the raindrops falling on our skylight windows. Or maybe because it requires a certain attire, which could possibly call for some online shopping? Whatever it is, an occasional rainy day is definitely something I don't mind, especially if I had all those pretty items from today's cravings in my closet. The Burberry boots are at the veeeery top of my wishlist right now. I love my Hunter rain boots, but rarely wear them because I feel like they go up a bit too high and they look like typical rain boots. Well, these Burberry babies are definitely the most stylish rain boots I've ever seen and I can even imagine wearing them without a single cloud or raindrop in sight!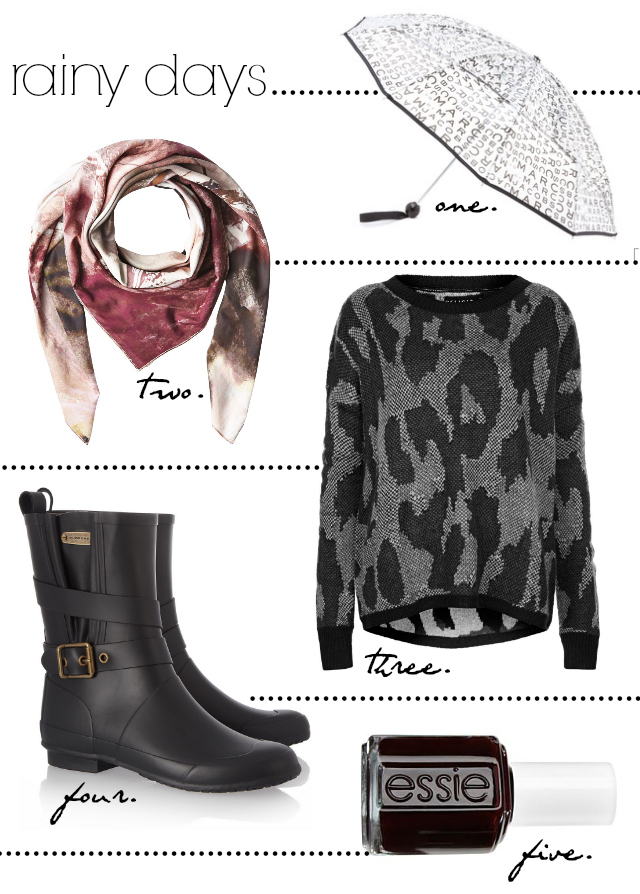 1. Of course a rainy day requires an umbrella. I used to have an amazing clear one, but it broke, so this MBMJ version may just have to be purchased.
2. During fall I hardly ever leave the house without a scarf, I love how it can be worn as an accessory and adds a bit of color or pattern to an otherwise simple outfit. I am especially smitten with the colors of this one, found on Street-One.
3. Sweaters, sweater & more sweaters! It's all I want these days – especially if they come with a leopard pattern!!
4. No words necessary for these babies, right? What do you think … should I splurge, or is 200€ simply too much? (my conscience is leading towards "too much")
5. I am probably one of the biggest Essie fans out there, and "wicked" is an amazing color for fall!