TRAVEL: postcards from Bangkok
I don't remember the last time a destination impressed me as much as Bangkok. Sure, the Maldives are stunning, I love Abu Dhabi and a trip to the US always feels like home. However, since Bangkok was my first ever trip to Asia, I was overwhelmed with all of the new impressions and experiences. It has been a week since we left the megacity and I am just now starting to really wrap my head around everything we experienced. I think it is one of those places that takes some time to process. The city is huge, it is dirty and it is strange – but at the same time so interesting with so much to see and discover. The Thai people are by far the friendliest nation I have ever encountered, everyone is nice beyond words and what's even more important, it feels so genuine! The streets are unlike anything we're used to here in Europe and the temples are beautiful. We spent 3 days in the city and I don't think I would have had energy for much more (we usually left the hotel at 8am to get an early start due to the heat and humidity), but I think it is safe to say that the trip definitely expanded my horizon and let me be a part of a entirely different culture – even if it was just for a few days!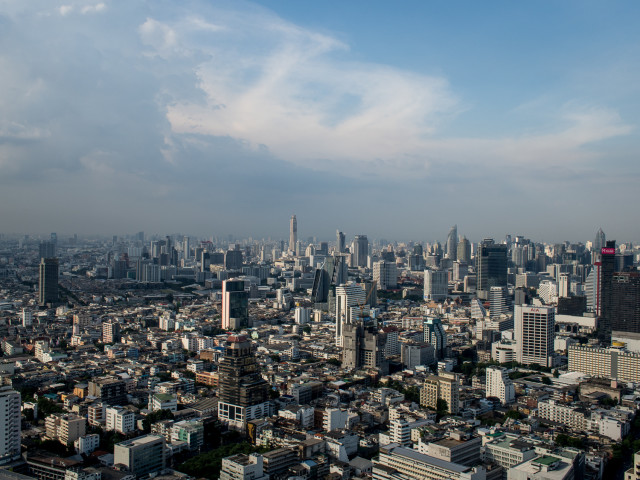 Since a city of this magnitude can be a bit much, and I personally had a hard time knowing where to start and what to see, I put together a list of my personal top 5 things to do in Bangkok that I can highly recommend!
Visit a local market like Or Tor Kor, which happens to be named as part of the 5 World's Best Fresh Markets. This was actually my favorite experience during the trip! We got extra lucky and the hotel's chef came with us to teach us about the spices and ingredients. It is a great place to try yourself through local specialties like durian (the stinky fruit) or mangosteen, and to shop dried mango or curry pastes as goodies to bring home. We were the only tourists there and spotted a ton of really stylish and young locals.
There are tons of temples around town and obviously the Grand Palace & Temple (Phra Borom Maha Ratcha Wang) is the most famous. While it is impressive, I have to say that the masses of other people there were a bit too much and I much preferred the Temple of Dawn (Wat Arun) along the river bank.
Drinks with a view! Bangkok is famous for it's rooftop bars with incredible views over the endless skyline. My personal recommendation goes out to Sirocco & Skybar at the Lebua State Tower, which also happens where a part of the Hangover 2 movie was filmed. The bar on the 64th story is a must when you are in town and the view will most likely leave you speechless (just like the prices on the menu, but you are partly paying for the experience – right?).
Explore the city by boat! On our first day in the city we took an early-morning tour with a longtail boat on the Chao Phraya River. While seeing the way locals lived in horrid conditions was absolutely depressing, I have to say that this is a big part of the city and culture. The tour by boat gave a completely different insight into the city life and I can only recommend it.
Last but not least, you have to get a Thai massage. Nowhere else are they as good and affordable as they are in Bangkok. While we opted for the hotel version, there are also tons of place on the streets (especially by the various temples) or on the beaches of the Thai islands. 90 minutes of pure bliss!