CRAVINGS: statement details
Especially on weekends I usually find myself grabbing a simple pair of jeans, an oversized sweater and some comfy loafers. Then, before heading out I'll add a glitzi necklace, a big watch or some statement earrings for a little "glam". It is such an easy combination that is not only comfortable, but also totally put-together. I don't actually own a pencil skirt yet, but I kind of like the idea of wearing one with a knit sweater, some biker boots and statement earrings. This week I am definitely craving these stunning earrings by Anton Heunis – which pair do you like best of the three?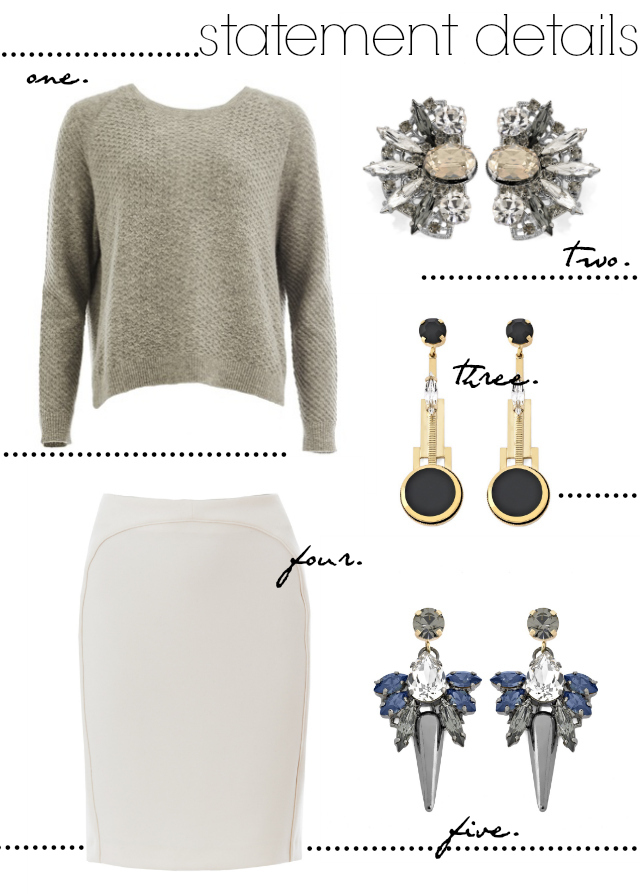 1. Angora sweaters are simply the coziest thing ever, and I have yet to find the perfect gray knit –  I'd say this one is a pretty good option!
2. There is a reason why these are called "belle earrings", they'll make you feel like a princess ♥
3. A bit edgier with a geometric shape, as well as some elegant black and gold, these earrings are definite show-stoppers!
4. I am not sure if I have the right figure for a pencil skirt, but I'd love to try this one.
5. The combination of blue and gray of these babies feels perfect for winter, and they also match the sweater perfectly!
**in collaboration with Girissima.com