CRAVINGS: a taste of summer
Ohh summer bliss! This weekend could not be more perfect for an extra day off tomorrow – we've had nothing but sunshine and amazing weather, which is supposed to stick around for at least another few days. Reason enough to get excited about summer, right? And of course also reason enough to create a little wishlist …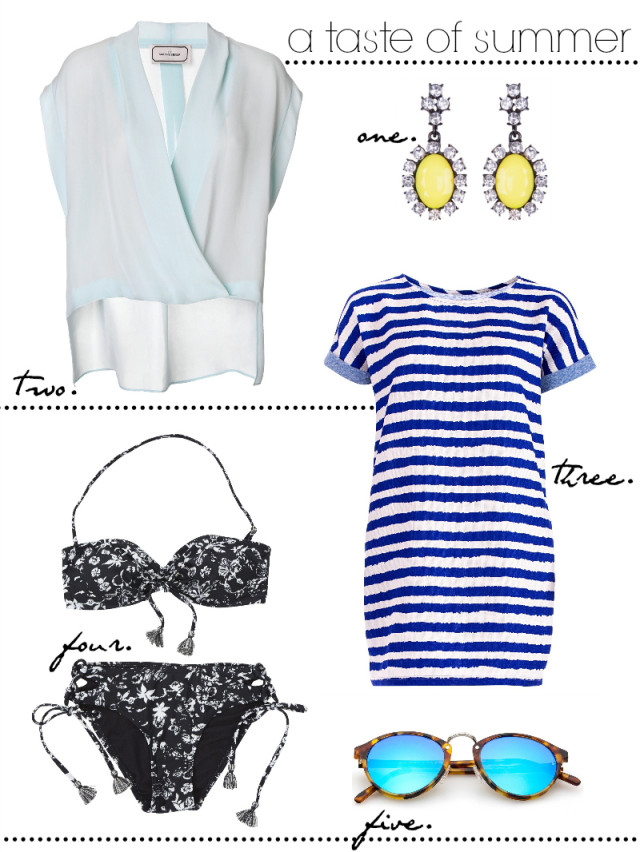 1. It seems that pretty earrings are the new statement necklaces for me – they instantly transform an outfit and a touch of yellow is perfect for summer!
2. Light and flowy tops are definitely my favorite for warm days and I love the color of this one by Malene Birger.
3. Stripes are definitely my biggest obsession at the moment (seen HERE and HERE) – just imagine how perfect this dress would be for a little harbor cruise on a boat!
4. It wouldn't be summer without bikinis 🙂 I've been wearing mine all week and love this one by French Connection with the pineapple print!
5. Sunnies are a must! No explanation necessary!
*in collaboration with Girissima.com