A while ago I read an article about The 3-2-1 Workout, developed by personal trainer Ramona Braganza. I've been meaning to share some of the details with you because quite frankly, it is one of the smartest views on health, diet and fitness that I have read in a long time. Ramona trains stars like Jessica Alba, Kate Beckinsale, Ryan Reynolds and Jessica Biel, who (in my opinion) all have super fit and healthy looking bodies. It is NOT about starving yourself of being super skinny, but rather about eating right 80% of the time (20% are for pizza, sweets and other things you may be craving) and working out regularly.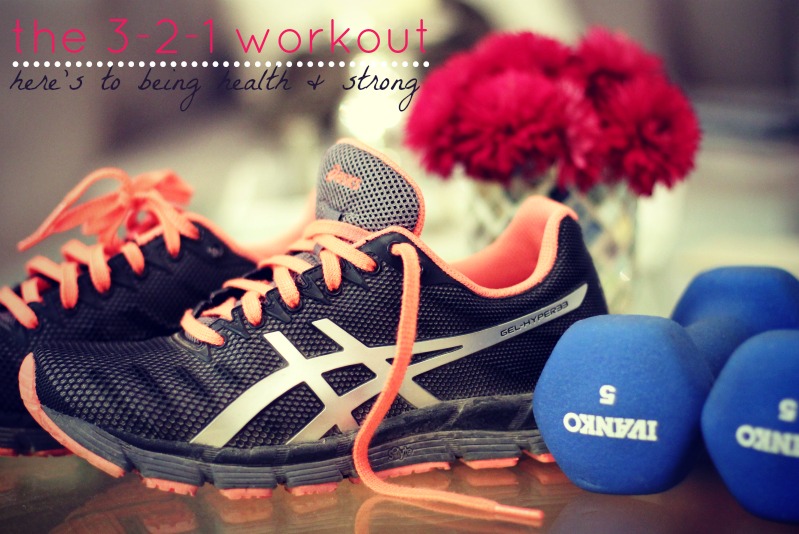 Here are some of the details:
– Eat 3 meals a day, have 2 snacks per day & drink 1 liter of water with each meal (not sure I can do that … I'd be full from just the water)
– Workouts don't need to be longer then 60 minutes: 3 segments of cardio, 2 segments of circuit training & 1 segment of core training. Find the exact run-down HERE or a good video that explains it all in 3 minutes HERE.
– For food, try to include lots of veggies. A perfect lunch would be grilled chicken breast, some steamed veggies and brown rice. Ideally you're breakfast should be the largest and dinner the smallest meal. However, I know I can't stick to that because I am never really hungry in the mornings and can't seem to eat more than a small bowl of cereal of a slice of whole wheat bread with honey.
I am excited to try the new workouts, because I feel like time will probably fly by when you're only doing something for 10 minutes at a time. I'll try to do those at the gym at least twice per week and then go for outdoor runs on another 2 days. Is anyone else down to try this with me? I feel like the 3-2-1 method sounds like such a logic and healthy approach on fitness and eating!!