A few weeks ago I received a special request for a post, asking to state my top 10 pieces in my closet. I really liked the idea of picking my favorite pieces and reflecting on my own "must-haves", and this past weekend I finally found time to prepare the post for you guys. For now, I have focused on the upcoming season of fall – because my favorite items in my closet definitely change, just as the seasons do. However, a lot of these are year-round favorites for sure. Hopefully you guys will find this helpful and understand what I think about when building and adding to my wardrobe.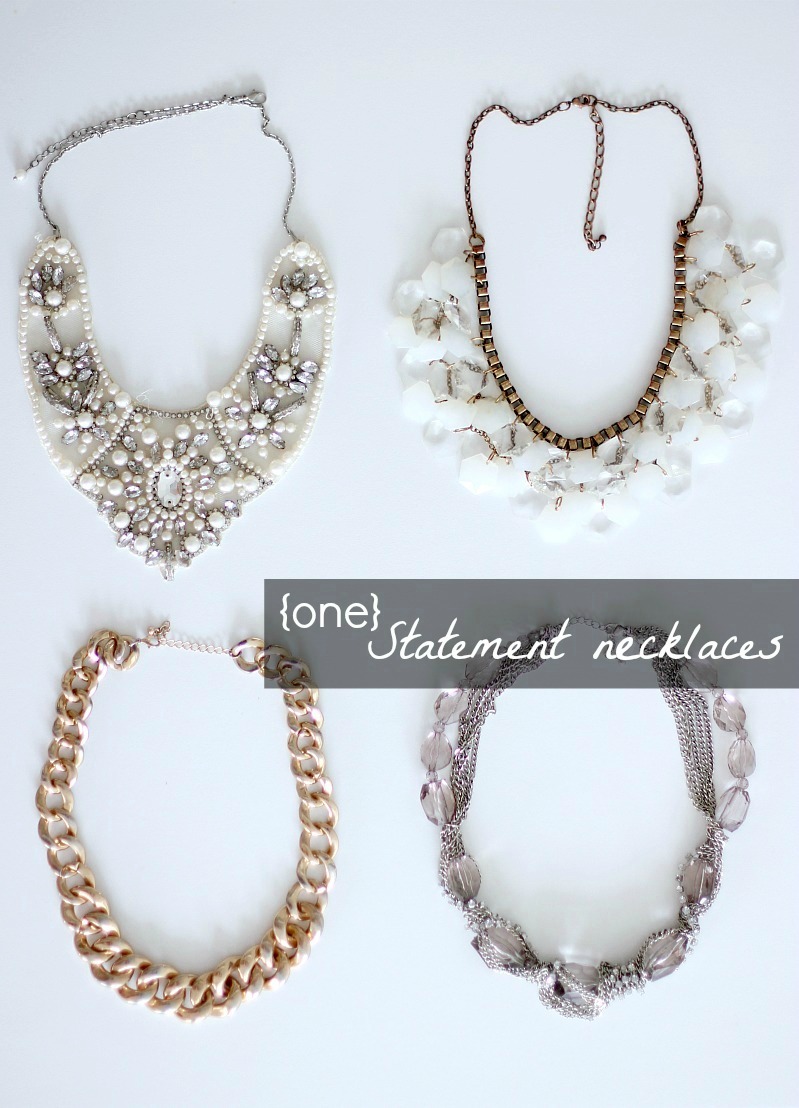 This should come as no surprise for those that have followed my blog for a while. Statement necklaces are my #1 favorite accessory and I feel like they make a simple pair of jeans & a blouse look so put together and instantly glamorous. While my selection is around 10 necklaces at the moment, it definitely does not require that many. I would recommend having at least one each in silver and gold hues. These 4 basically go with most outfits and are such eye-catchers.
Simple black skinny jeans are so versatile and can be worn casually (ie. with a chambray shirt, as pictured above) or dressier with heels, a silky top and heavier make-up. My favorite pair is this waxed version from Zara with zippers by the ankles. Another plus: black is always flattering :)
Knits have never really gone out of fashion, but I feel like they have been the center of attention this and last fall. This is an item you should splurge on – nothing beats a great quality sweater that'll keep you warm without making you grossly sweaty (ie. polyester does). I'd say a neutral color like beige or black are good basics to start with. Once you have those you can concentrate on other fun ones, like the hot pink or stripes. I can recommend the quality of J.Crew (the top 2 sweaters in this picture) because I have washed them at least 10 times and they still hold their shape and softness perfectly.
Another item to invest in: a black leather bag. I get SO MUCH wear out of this beauty, and it works with almost any outfit, and for most activities during the day. I feel it is smarter to spend a lot of money on a timeless piece that you'll love forever (and that holds up and doesn't break after a year), rather than buying a new, trendy bag each season of lesser quality.
My favorite kind of top to pair with skinny jeans. A silky blouse is appropriate for work without feeling too stiff. I'd say, start with basic colors and then move onto patterend, more special pieces, which are harder to incorporate with the rest of your clothes and can't be worn as often.
No matter what season, there are always sunny days. Make sure that the shape works well with your face and the glasses feel comfortable, otherwise you wont enjoy wearing them. Even though I adore my Marc by Marc Jacobs sunglasses, you don't necessarily have to spend a lot of money for a good pair – my 2nd favorite pair was a steal at 19€ from Mango. Just make sure the UV-filter is good :)
Another no brainer, my parka :) It is great for fall, winter (with the faux fur lining) and spring. The best buy last fall, for sure!!
Even though I have an array of clutches, I constantly find myself going back to this cross body bag. It is the perfect companion for travelling (a lot harder to steal than a big purse) and great for a night out, because you don't constantly have to hold something while dancing.
Black (comfortable!!) flats are great for everyday stuff, going to work, running errands, … The 3 pairs above are in constant use and I am already dreading the day when they'll be worn out to the max.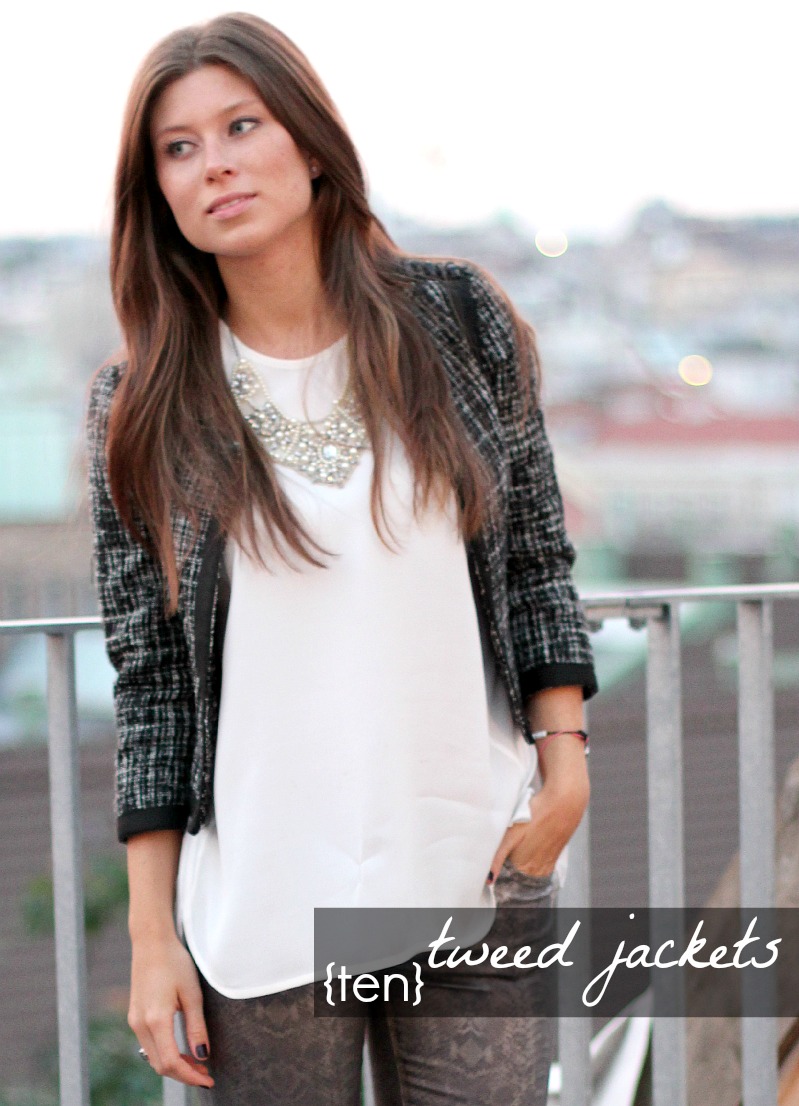 While I do think blazers are a definite necessity in any girl's closet, lately I've prefered tweed jackets. They do actually keep you warm, and look pretty sophisticated. I also love colorful versions, like my yellow or pink ones.
♥ ♥ ♥ ♥ ♥ ♥ ♥ ♥ ♥ ♥ ♥ ♥ ♥ ♥ ♥ ♥ ♥ ♥ ♥ ♥ ♥ ♥ ♥ ♥ ♥ ♥ ♥
I still feel like there are lots of other things I could / should name, but considering the things I wear on a daily basis, these are my top 10 most loved things in my closet. If I could pick one more thing, I would say "11 – a touch of leopard", whether it is a cute bag or leo flats, a touch of leopard is always appropriate :)